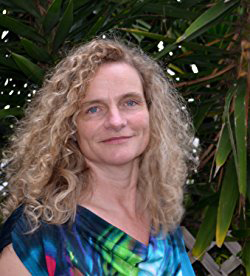 Johanna Derbolowsky
Johanna Derbolowsky, the author of The Transformation Promise, developed the Quantum Heart Field Experience as an easy-to-learn way to transform life's situations through connection with high frequencies.
She is a metaphysical teacher and coach of healing and transformation, including consciousness stem-cell therapy work. Her private sessions are spirit guided and client specific.
In addition to her healing work, she is an ordained minister with the International Metaphysical Ministry, a spiritual counselor, certified Matrix Energetics practitioner, clinical hypnotherapist, and a Reiki master.
Johanna has worked for more than 20 years in the field of metaphysics while continuously advancing her studies to best serve her clients. She has a private practice in California and teaches seminars in the U.S. and Europe.
"Johanna's gift to the world is her beautiful and pure love energy. Being in Johanna's presence, one is overcome by her compassion and brightness. It is no wonder that those, myself included, who attend her Quantum Heart Field workshop experience the miracle of unconditional love and light that opens their heart to infinite possibilities and miracles."
"Johanna is very strong, very smart, very direct. She will get to the heart of your matter. To the heart of what is holding you back. I would strongly recommend at least a couple of sessions with her. If your heart is open, and your mind is receptive, and you are truly determined to improve your life, I believe that Johanna will set you on the right track. She sure did it for me."
"Johanna has this amazing way of balancing and shining a really bright light on "problems", while delivering the message, that challenges are really a joyous thing to experience. I feel incredibly lucky to have experienced her warm constant sensation of honesty, light, love, growth and understanding."
"Thank you so very much for your amazing energy, and the very special experience you gave! I felt so different afterward and still feel these new energies running through my true self today. I am looking forward to putting this new light into my life!"
Download PDF
The Transformation Promise Media Kit
Read about media topics, author and book info, personal and media appearances, and more.
Download PDF
Awaken Your Inner Butterfly
Johanna's book, "The Transformation Promise", is available on Amazon.com.